Recently Shared Puzzles
The original plan for the site was that the welcome screen of our Sudoku web app would offer a "Recently Shared Puzzles" section listing puzzles people had solved recently using the app — essentially a "top ten" list.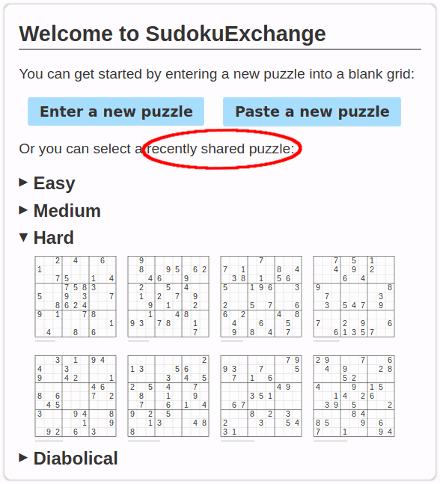 Unfortunately it's impossible for us to know where people might have obtained the puzzles they are solving and therefore we can't know what copyright restrictions might apply to them. We certainly didn't want to undermine the livelihood of people who make their living creating hand-crafted puzzles.
We do encourage you to use our app to solve puzzles that you find in newspapers, magazines or even other web sites or apps. We're also happy for you to share the resulting links with your friends and family — just as you might share around a magazine. However we won't be sharing any of the puzzle links that happen to end up in our web server logs.
Our "recently shared puzzles" section is now simply a selection of computer-generated puzzles that we have created to share with you. This list of puzzles is updated once per hour with a random selection of 32 puzzles from our "puzzle bank". The puzzles have been graded and grouped into four difficulty levels.
Our "Puzzle Bank"
Our puzzle bank contains several hundred thousand puzzles which were generated randomly using the QQWing Sudoku software. These puzzles are not encumbered by copyright and you may use and share them for any purpose.
The generated puzzles were passed through the Sukaku Explainer software, which assigns each puzzle a difficulty rating. The rating system is documented on the Sukaku Explainer wiki. Each known solving technique is assigned a rating value (e.g.: "Last value in a block" is rated 1.0, "X-Wing" is rated 3.2, etc.) and a puzzle rating is based on the most advanced technique you would need to use to solve the puzzle.
The ratings are then used to group puzzles into the following categories (our choice of threshold levels was quite arbitrary):
| Category | Difficulty rating |
| --- | --- |
| Easy | < 1.5 |
| Medium | < 2.5 |
| Hard | < 5.0 |
| Diabolical | ≥ 5.0 |
When you are selecting a puzzle from one of these categories in our app, you will see a small yellow bar beneath each puzzle - the longer the bar, the higher the difficulty rating. You can read the rating number by hovering your mouse over the bar, or in settings, there's an option to display the number in the bar.